Thanks to generous support from NATO's Public Diplomacy Division, our "Promoting NATO to Youth" project got off to a flying start before the summer break with five workshops on disinformation at sixth-form colleges in Leicester.
The workshops began by exploring information, misinformation, and disinformation before taking a "deeper dive" into disinformation.
This showed that some forms of disinformation can be harmless, and even entertaining. Many sports and games, for instance, involve misleading or deceiving other players. But disinformation can also be used in situations where the stakes are much higher, and it can make the difference between victory and defeat, or even life and death.
After that scene-setting introduction, students are invited to play "The Disinformation Game", where they work in groups to come up with ways of using disinformation to undermine a fictional story circulating on social media.
Students usually show impressive – and disconcerting – creativity when asked to be "the bad guys", trying to discredit the story and its sources, and using fake narratives to create doubt and confusion.
They then compare their messages and ideas with those that were used in a well-documented disinformation campaign relating to a real, high-profile news story.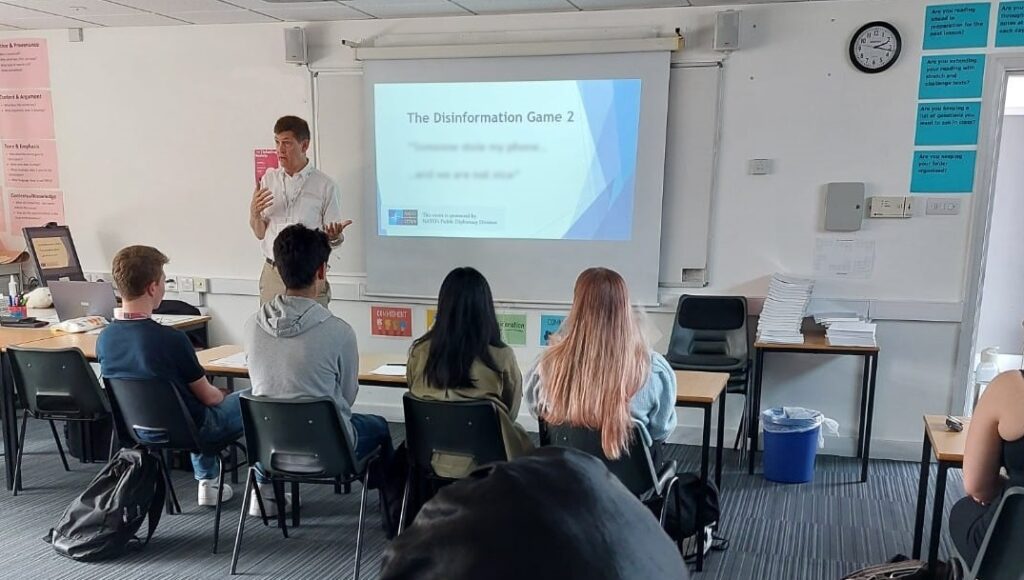 Time permitting, the workshops end with students learning about several other real-life disinformation campaigns – some humorous, and some deadly serious.
The workshops makes students more aware of the pervasive nature of disinformation and alert to its potential dangers. They are encouraged to consider the credibility of different sources of information and their possible motives and biases.
These first workshops have been well received, and we will be running more of these for different classes at the same colleges in the new academic year.  We will also be holding introductory sessions on NATO and workshops on disinformation in additional colleges.
+++
Introduction to NATO for sixth-formers
In addition to workshops on disinformation, as the school year drew to a close, we were able to provide an overview of NATO to six-form students at Harington School in Oakham.
Coincidentally, this event took place in a classroom that was being used to teach a course on the history of the Soviet Union, so the decor provided many interesting points of reference for the explanation of NATO's origins and role during the Cold War.
Harington School, June 2023