ATA UK enables leading NATO officials and other key policy makers and shapers to meet international relations students and local community groups. It also produces commentary on international security issues provided by ATAUK affiliates and guest experts.
 A key focus is on raising awareness and understanding about the UK's Integrated Review of Security, Defence, Development and Foreign Policy.  This is part of a broader effort to promote understanding and awareness of the evolving character of conflict – including hybrid and "grey zone" operation – and how states can adapt and finance civil and security institutions to meet those challenges, while at the same time procuring and maintaining sufficient inventories of defence equipment to meet more traditional security contingencies;
Programmes and activities are tailored to suit particular audiences such as specialists in defence, security and international relations, government officials, parliamentarians, and journalists, as well as student bodies and the general public.
A recent current focus has been on programmes tailored for students at sixth-form college level. This consists of seminars on NATO – origins, values, current roles and missions – and role-playing exercises, which enable students to examine and analyze complex, NATO-related issues.
At present, all activities are being conducted on-line.  When circumstances permit, ATA UK will organize lectures, seminars, short roundtables, education programmes and study visits. 
With the able assistance of NATO's Public Diplomacy Division, ATA UK recently completed a series of NATO-themed briefings and simulations for sixth-formers.  Any reservations about addressing audiences at that stage in their education have been thoroughly dispelled by these highly engaged and perceptive students.  If you would like an online briefing on NATO for your college or university, get in touch through our contact form.
Detecting and Countering Hybrid Threats
Were recent cyber attacks against Ukraine a rehearsal for a more comprehensive assault on Ukraine involving a combination of hybrid operations and traditional military might? What lessons have been learned since Russia's hybrid operation to occupy Crimea in 2014?
No matter how the crisis on Ukraine's borders evolves, hybrid threats have become a fact of life that nations must learn to recognize and attempt to counter.
But when does a disinformation campaign become a hybrid attack? How can the victim of a hybrid attack recognize it and respond? What is "hybrid deterrence"? How can governments prepare and mobilize the civilian agencies and experts needed to counteract hostile hybrid operations?
With inside experience in Ukraine's defence, security, and foreign intelligence organizations, Oleksandr Danylyuk has been deeply involved in developing Ukraine's "whole of government" efforts to build resilience and defend against hybrid operations.
He is a key member of the NATO-Ukraine platform on countering hybrid threats and is the author of the Ukraine Centre for Defense Reforms' manual on interagency and international cooperation in detecting and countering hybrid threats.
Defence in an Era of Strategic Competition
An "ATA Talks" event with General Sir Nick Carter
Chief of the UK Defence Staff
Held on Monday 27 September 2021
General Sir Nick Carter explains the thinking behind the UK's Integrated Operating Concept for the UK's Armed Forces.  In doing so, he survey's the key features of today's international security environment and how to address the challenges it presents.
He also answers questions on; the UK's security relationships with the United States and the European Union; AUKUS; and the lessons the international community should draw from two decades of involvement in Afghanistan.
See the ATA webinar report here.
General Sir Nick Carter has been the professional head of the UK's Armed Forces since June, 2018, after four years as the head of the British Army.
He had numerous tours of duty in Iraq and Afghanistan, and has occupied key positions in both command and policy.
His tenure as Chief of the Defence Staff covers the period of the Covid-19 pandemic, the end of NATO's Resolute Support mission in Afghanistan, and the conduct of the United Kingdom's Integrated Review of Security, Defence and Foreign Policy.
This latter process included General Carter's acclaimed "Integrated Operating Concept", which charts a course for the Armed Forces to adapt to the new era of strategic competition.
Webinar on "A New Afghanistan Agenda"
Held on Thursday, 2 September 2021
Stanislava Mladenova, Jack Segal, Jamie Shea, and Jim Townsend
With guest commentators Sir Hugh Bayley and Baroness Kingsmill
Governments did not anticipate just how quickly the Taliban would take control of Afghanistan after the withdrawal of NATO-led forces.
NATO will doubtless have to review not just the circumstances of the final withdrawal, but also the lessons to be learned about the entirety of its involvement in Afghanistan, because – although it might seem unlikely now – at some point in the future, NATO will again face decisions about military intervention.
More immediately, however, NATO and the international community in general, must face the reality of the transformed situation in Afghanistan and formulate "A New Afghanistan Agenda".
The Atlantic Treaty Association of the United Kingdom held a roundtable on 2 September where an international panel addressed the questions that a new Afghanistan agenda will have to contend with.
How will "Taliban 2.0" differ from "Taliban 1.0"? How will the new regime deal with Afghanistan's humanitarian and economic crises, and what influence might the international community have in encouraging the Taliban not to return Afghanistan to the Dark Ages?  And what agendas are Russia and China pursuing?
Read the key points here.
Stanislava Mladenova, Jack Segal, Jamie Shea, and Jim Townsend have a wealth of practical experience in international relations and in the international community's engagement in Afghanistan.
Read their brief biographical notes here.
Webinar series on the nature of conflict in the 21st century
23 June to 1 July 2021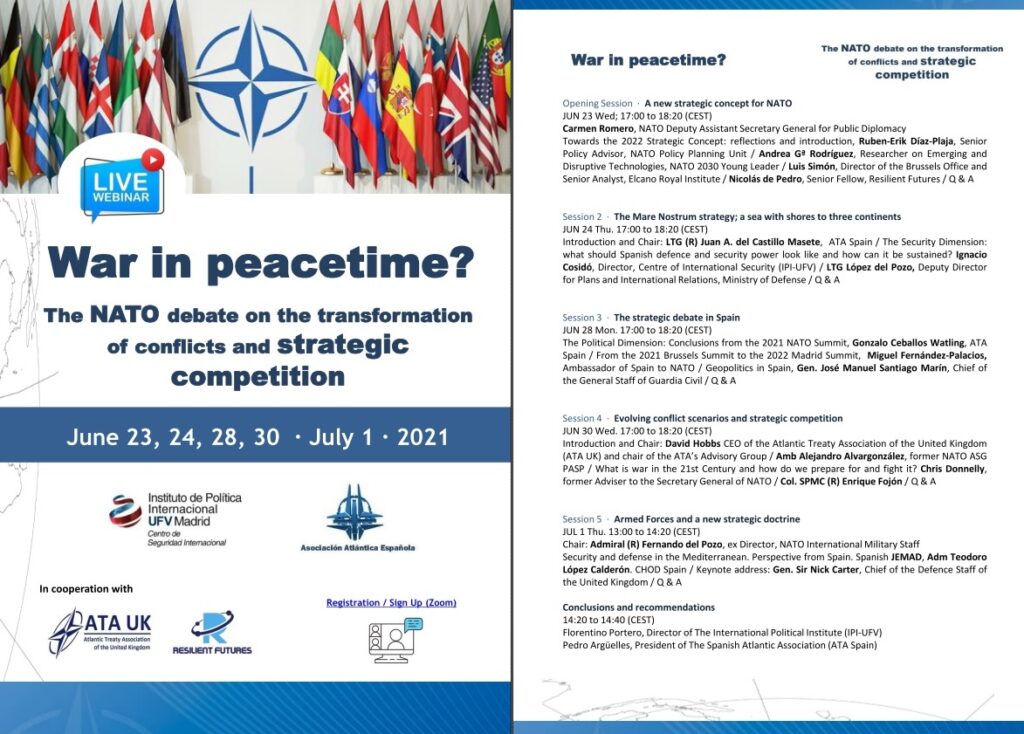 ATA UK supported the Spanish Atlantic Association and the Institute of International Politics in a series of webinars examining the nature of modern strategic competition and how armed forces and societies can adapt to this new environment characterized by conflict below the threshold of armed force.
Participation was by invitation only and the webinars were all held off the record in late June and early July.
Among the many highlights were presentations by the Spanish and United Kingdom Chiefs of Defence, Admiral Teodoro López Calderón and General Sir Nick Carter, respectively.
ATA UK plans to arrange similar events which will be open to broader participation.
"Reflections and Lessons from NATO's Past: Visions for NATO's Future"
Lord Robertson of Port Ellen, 2 June 2021
Lord Robertson is a former UK Defence Minister and was NATO Secretary General during crucial events in the Alliance's history: the invocation of Article 5 following the 9/11 terrorist attacks against the United States; NATO's assumption of the command of the International Security Assistance Force in Afghanistan; and the preparations for the largest round of enlargement in the Alliance's history.

In this webinar, he provides his unique perspectives on the Alliance as it adapts to challenges of today and tomorrow.
"The Debate on China in the United Kingdom"
Co-sponsored by our parent organization, Resilient Futures, and the Foundation for Social Studies and Analysis (Spain) Recorded on 22 February 2021
Tom Tugendhat, Chair of the House of Commons Foreign Affairs Committee (FAC) and Chair of the Conservative Party China Research Group (CRG) London
Edward Lucas, Nonresident Senior Fellow, CEPA