Promoting NATO values and the value of NATO





ATA UK aims to raise awareness and understanding of the benefits and obligations of the UK's membership of NATO.  It provides education programmes, analysis and comment on international security issues in an era of strategic competition.
Military support for Ukraine and the lessons for defence procurement
Ukraine's supporters are struggling to keep Ukraine supplied with the arms and munitions it needs to defend itself and reclaim the territory which Russia has illegally occupied.  Stockpiles are dwindling, and defence industries are hard pressed to produce replacements fast enough to keep up with battlefield attrition and consumption.
This raises the awkward question about how they would cope with a larger conflict in which their own forces were directly involved.
Read more in "Military support for Ukraine and the lessons for defence procurement" in  the German Atlantic Treaty Association's "Opinions on Security".
Read the full article here
Workshops on Disinformation off to flying start
Thanks to generous support from NATO's Public Diplomacy Division, our "Promoting NATO to Youth" project got off to a flying start before the summer break with five workshops on disinformation at sixth-form colleges in Leicester.
The workshops began by exploring information, misinformation, and disinformation before taking a "deeper dive" into disinformation.
This showed that some forms of disinformation can be harmless, and even entertaining. Many sports and games, for instance, involve misleading or deceiving other players. But disinformation can also be used in situations where the stakes are much higher, and it can make the difference between victory and defeat, or even life and death.
After that scene-setting introduction, students are invited to play "The Disinformation Game", where they work in groups to come up with ways of using disinformation to undermine a fictional story circulating on social media.
Students usually show impressive – and disconcerting – creativity when asked to be "the bad guys", trying to discredit the story and its sources, and using fake narratives to create doubt and confusion.
They then compare their messages and ideas with those that were used in a well-documented disinformation campaign relating to a real, high-profile news story.
Time permitting, the workshops end with students learning about several other real-life disinformation campaigns – some humorous, and some deadly serious.
The workshops makes students more aware of the pervasive nature of disinformation and alert to its potential dangers. They are encouraged to consider the credibility of different sources of information and their possible motives and biases.
These first workshops have been well received, and we will be running more of these for different classes at the same colleges in the new academic year.  We will also be holding introductory sessions on NATO and workshops on disinformation in additional colleges.
+++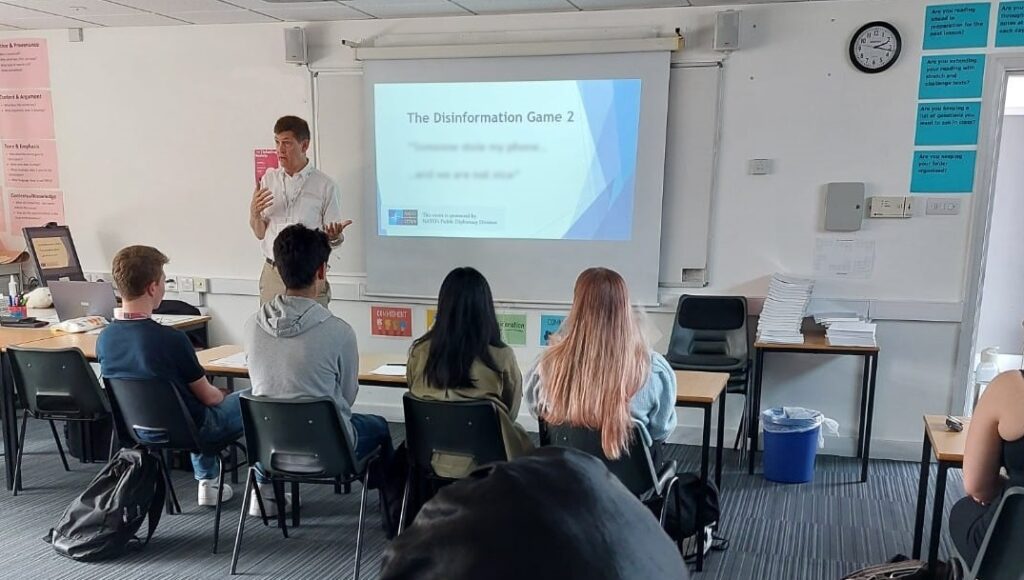 Introduction to NATO for sixth-formers
In addition to workshops on disinformation, as the school year drew to a close, we were able to provide an overview of NATO to six-form students at Harington School in Oakham.
Coincidentally, this event took place in a classroom that was being used to teach a course on the history of the Soviet Union, so the decor provided many interesting points of reference for the explanation of NATO's origins and role during the Cold War.
Images and text from Harington School on Facebook and Instagram
Harington students recently enjoyed a visit from David Hobbs, former Secretary General Emeritus of the NATO Parliamentary Assembly, who delivered a talk on NATO, its origins and purpose, the challenges it faces in the modern world and the impact the Russian invasion of Ukraine has had on the alliance and its member states. This was of particular use for those students in the audience who are considering university courses in history, politics and international relations and was certainly very thought provoking and informative. The session culminated in a question and answer discussion with some really insightful and perceptive questions posed by our students, particularly on the immediate challenges facing NATO. We hope to welcome David back to Harington in the near future to deliver more sessions.
Harington School, June 2023
One Year after the Adoption of NATO's New Strategic Concept
On 29 June 2022, NATO adopted its long-awaited New Strategic Concept.  This outlines the Alliance's view of the strategic environment, restates the Alliance's purpose and principles, and describes its core tasks.
The previous Strategic Concept – adopted in 2010 – remained hopeful for the partnership with Russia and made no reference at all to China.  In contrast, the current version describes the Russian Federation as the "most significant and direct threat to Allies' security" and observes that the People's Republic of China's (PRC) stated ambitions and coercive policies challenge our interests, security and values".
But the Alliance's core tasks remain; deterrence and defence; crisis prevention and management; and cooperative security.
The challenge for the Alliance is to fulfil those tasks in these changed circumstances and ensure – as stated in the document's preface – that "our Alliance remains fit and resourced for the future".
As Alliance leaders prepared to meet in Vilnius on 12 and 13 July 2023, the Atlantic Treaty Association held a webinar where Benedetta Berti, Head of Policy and Planning in the Office of the NATO Secretary General, discussed the 2022 Strategic Concept in the light of events in the year since its adoption.
Russia's Invasion of Ukraine
Perspectives and Explainers
If you are interested in having ATA UK provide a briefing on NATO in your school or college, contact us using the form below.